Last Updated on September 9, 2022 by Carol Gillette
Alternative to Meds Editorial Team
Table of Contents:
Alternative to Meds Center is a licensed treatment program which treats mental health and addiction much different than the average rehabilitation center. Specializing in holistic psychiatry, environmental medicine, and addiction treatment, Alternative to Meds helps an individual become more than just a diagnosis. Helping to find underlying causes, exploring the addictive biochemistry, and providing a wealth of knowledge in alternative healing practices, Alternative to Meds Center staff is able to help individuals recover from previous diagnoses, best exhibited in 5 reasons why ATMC is different.
Key to Recovery from Mental Health Issues
The key to recovery from mental health problems like depression, anxiety, or insomnia, is to take a look at the whole picture. An individual's health is affected by many factors including environment, family history, trauma, diet, and brain chemistry. By doing a thorough investigation into these factors, our program is able to provide a more well rounded approach than a typical rehab facility. While Alternative to Meds does realize that counseling and therapy play a major role in recovery, our program offers a variety of additional adjunctive treatments in an effort to provide the most well rounded treatment approach possible.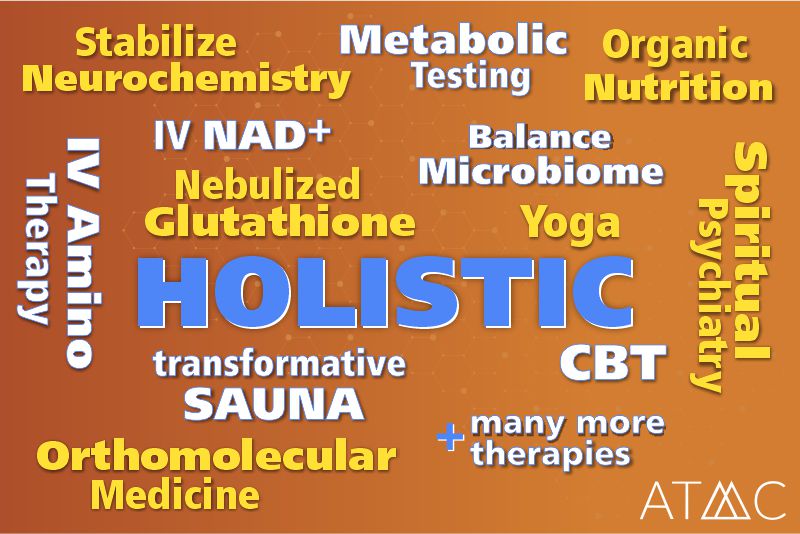 Clients have access to treatments that help remove neurotoxins, support gut health, lab testing for underlying issues like heavy metals toxicity or genetics, as well as an educational aspect to help become familiar with holistic lifestyle and treatment modalities. A successful participant of our world class program will leave treatment knowing the best ways to stay healthy and beat their mental health diagnosis or addictions for good.
While Alternative to Meds Center does offer a multitude of effective holistic treatments for mental health and addiction, we will focus on the five reasons that our Center is different from most other facilities. For anyone looking for the best treatment program for themselves, Alternative to Meds Center offers a more individualized treatment environment than most of the other cookie cutter-type rehabilitation centers.