Alternative to Meds
Editorial Team
Medically Reviewed by
Dr John Motl MD
Acupuncture is a form of alternative medicine that originates from ancient China and treats clients through manipulation of thin, solid needles which are inserted into skin on the body's acupuncture points. Acupuncture therapy helps align the systems of energy in the body, called Chi, which can direct healing. In many cases, energy can become stagnant in the body, resulting in health that is less than optimal. Through inserting needles into strategic points along these pathways, acupuncture practitioners believe that the energy will re-stabilize. In accordance with Traditional Chinese medicine, energizing specific points may correct imbalances in the movement of Chi throughout channels also known as meridians. This has been documented in a study titled "Acupuncture" by the National Institute of Health.
Acupuncture can greatly complement nearly any process of recovery.
At Alternative to Meds Center, acupuncture is one of the holistic treatments used. Individuals who receive acupuncture treatment often report relief from withdrawal symptoms and a decrease in drug cravings. This treatment is also particularly effective in alleviating physical pain. The typical program includes auricular acupuncture ( ear acupuncture ) and full body treatments are optional. Residents often report relief from symptoms such as pain, depression, and anxiety following an acupuncture session.
Many western practitioners see the acupuncture points as areas to energize nerves, connective tissue and muscles. This energetic stimulation appears to enhance the activity of the body's natural painkillers ( endorphins ) and boost blood flow. Stimulation triggers release and production of endorphins, also known as enkephalins. Endorphins or enkephalins are natural chemicals with pain-relieving effects similar to that of opiates.
Current research has suggested that acupuncture may also trigger the release of neurotransmitters, such as serotonin. Individuals often try acupuncture therapy for relief from symptoms that emerge from a number of conditions and diseases, including: fibromyalgia, headaches, migraines, back pain, anxiety, depression, chronic pain, withdrawal, and addictions including drugs, alcohol and cigarettes.
An article published by Reuters titled "Want to quit smoking? Try acupuncture or hypnosis" demonstrates that acupuncture can be effective in reducing nicotine addiction. There are many theories that exist about the actions of acupuncture, but as of yet, none can explain the multiple anti-inflammatory effects, analgesic effects, sedating effects, and regenerating effects from acupuncture.
Acupuncture has also been demonstrated to ease withdrawal symptoms from all known drugs. It has been documented well that stimulation of the meridian points affects the peripheral nervous system and the central nervous system.
Acupuncture not only feels good, it can release blockages of energy within the body.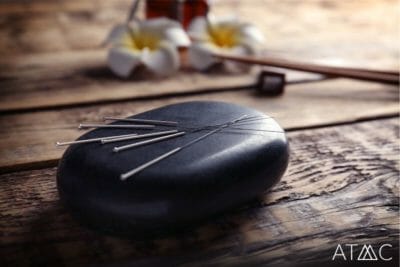 Acupuncture is an ancient traditional treatment that has been in practice for 5,000 years and until recently most of the evidence for the effectiveness of acupuncture was anecdotal. In the last 20 years however, physiologic mechanisms for many of acupuncture's effects have been revealed by research. Dr William Tiller, head of the department of Material Sciences and Engineering at Stanford University, for years found creative ways in which to prove the effectiveness of acupuncture. In one study using a frog, he injected on the median serving the liver with a radioisotope that would outline the meridian. He then cut only the meridian. The cut did not damage blood, nerve, or lymph tissue. The result was decay and eventual death of the organ. Many other studies using the full research power of Stanford University were performed demonstrating the actual layout and visualization of the meridian pathways.
Imagine a center that uses so many healing modalities working together to heal you.
If you are looking for relief from physical pain, anxiety, depression, drug, alcohol or nicotine addiction; acupuncture may be an extremely beneficial therapy when used in conjunction with finding the underlying causes of your symptoms. Acupuncture is one of many natural methods used at Alternative to Meds Center to bring a person's symptoms and neurochemistry into balance.