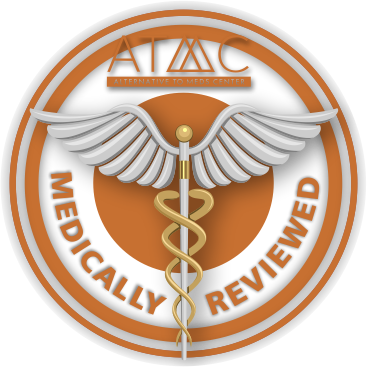 Alternative to Meds Editorial Team
Written by Diane Ridaeus
Medically Reviewed by Dr Samuel Lee MD
Pain Management Is Commonly Associated with Addiction
Over the last ten years it has become especially common for those in physical recovery from accident or surgery to become addicted to their pain pills. Commonly, and long after the acute pain has been fixed, the addiction lingers and the pain management clinics are overflowing with the sick and incapacitated. We are concerned at Alternative to Meds Center with the number of "pain management clinics" that have sprung up over this recent time period. Is profit the main factor in this new industry? If pain management clinics use only a prescription based treatment protocol, we believe that is an incomplete pathway to full and complete recovery.
While acute pain itself can have many sources, the common thread is that pain is a signal that something is not right and needs a correction. Sometimes there is an incurable physical or degenerative reason for the pain, and this is one of the most difficult cases to help. But THE most difficult to help is the individual who has been led down the path to addiction, and who has not been given adequate education or treatment to be able to recognize and address the source of the acute pain. Pain management should be either renamed "pain reduction" or as a term, ignored. If the proper treatments for pain reduction are not offered and available to clients, then there is no reason for visiting a pain management treatment clinic. The vast majority of pain management clients can receive much relief through physiotherapy, diet change, exercise, and other non harmful methods.
Pain Medications Will Not Cure Your Pain
If one's pain management clinic is not offering these other modalities perhaps it is time to seek another kind of help. If suffering from pain has led to becoming addicted to the "cure" for it, we invite anyone to can call Alternative to Meds Center to receive some actual help with either or both of these conditions.
Don't wait. Don't continue to suffer.