Last Updated on July 20, 2021 by Carol Gillette
Alternative to Meds Editorial Team
Medically Reviewed by Dr Samuel Lee MD
Table of Contents:
SSRI Withdrawal
Here in the Alternative to Meds Center drug treatment program, we provide SSRI withdrawal help methods to ease this process and reduce symptoms of withdrawal. SSRIs are prescription medications prescribed for depression as well as other psychiatric illnesses. Picture this scenario: You have been on an antidepressant SSRI for 5 years or more. You discuss with your doctor your desire to decrease your dosage. He prescribes alterations and tapering in typical 10mg increments. After a few days of beginning this, you may start to show severe flu-like symptoms — diarrhea, headache, nausea, dizziness, vomiting, chills, and fatigue. Electric shock-like sensations, agitation, vivid dreams, insomnia, impaired concentration, irritability, and suicidal thinking can also occur.1,2 These SSRI side effects last anywhere from a week to as long as a year and vary in their intensity. You are wondering what the hell is going on!

What is SSRI Antidepressant Withdrawal Syndrome?
Welcome to SSRI antidepressant withdrawal syndrome, a result of reducing your dosage faster than your CNS can accommodate, or from stopping the antidepressant altogether. On both counts, the results can be intolerable and even life-threatening in rare cases, without SSRI withdrawal treatment. SSRI drugs have different "half-lives" that affect how long until withdrawals start to occur.3 Some SSRI medications have a very short half-life, which means that these drugs don't stay active in the body for a prolonged period of time. They go in, work for a few hours, then they become inactive. One of the most prescribed SSRI antidepressants on the market today is Effexor. In as little as 5 hours of reducing or stopping an SSRI, SSRI discontinuation syndrome can begin. If you miss just one dose, symptoms can occur. Five hours is frighteningly short. Electric shock sensations or brain zaps may start to occur at random times, which can make you feel vulnerable and anxious. If you've ever been to the Grand Canyon or a very tall building and looked down, there is a falling feeling that takes you by surprise — though you are not falling at all. Your head feels like jiggly jelly with vertigo causing overwhelming spinning feelings. You get a migraine. You feel incapacitated. You may think you are having a panic attack and you end up in the ER, where you are given a psychiatric assessment by a doctor you've never met before, and a rushed recommendation for hospitalization. Your family doesn't understand any of this and fearfully agrees with the "new diagnosis". Physicians, though well-meaning, are often unfamiliar with SSRI withdrawals and also, untrained in how to help a person safely taper from these medications. These are some reasons why a person should never attempt abrupt SSRI withdrawal.4,5

Simplifying SSRI Withdrawal
To be sure, SSRI medications are nothing to mess around with. Stopping an SSRI cold turkey is dangerous. Without familiarity with evidence-based techniques, a person can end up in a complex web of worsening symptoms with a hopeless feeling underscoring day-to-day life.
There are ways to gradually decrease the dosage of SSRI medications without experiencing harsh withdrawal symptoms. It does not have to be painstaking or confusing. Your physician may not feel equipped to help you and you may feel left on your own to figure it out.6 Despite your desperation, you don't want to end up opening up an Effexor capsule to calculate the number of granules, aiming to lessen the dosage one granule at a time each day. For one thing, you cannot just take out one granule, since one capsule may contain more granules than another capsule, and you would have to add up the number of granules in each capsule every day. Without a simple, easy-to-follow path, people often restart the drug, often mistaking SSRI withdrawal symptoms for relapse of the original symptoms that led to taking the drug in the first place.5,6 You just want to feel better. This is why it is crucial to go through the kind of SSRI withdrawal process that is safe, simple enough to execute, and tolerable.
Alternative to Meds Center has carefully devised simple techniques and protocols that allow for safe and gentle SSRI withdrawal that have helped thousands of our clients to reach their goals with surprising ease and comfort. We help our clients achieve what we have come to call "natural mental health", that is, achieving mental wellness using holistic and alternative approaches during and after SSRI withdrawal.
One very popular example is acupuncture. Research published in the Journal of Medical Acupuncture has shown that acupuncture all by itself showed similar remission success compatible with psychotherapy and pharmacologic treatments for MDD.7
A second review of the medical literature on acupuncture found that an astounding 64% of participants in a published trial reached full remission of MDD after treatment with acupuncture.8
This is especially impressive, since medical literature continues to struggle to show that medications have any significant, demonstrable efficacy at all over placebo effects.9
Another fascinating area of treatment involves utilizing specific supplements that can assist in normalizing the CNS and therefore mood during and after SSRI withdrawal. These may include omega-three fatty acids, chromium, SAM-e, and countless others.10

SSRI Withdrawal Should be Slow
It is important to withdraw extremely slowly from these antidepressant drugs, often over a period of a few months or more, and under the supervision of an experienced mental health specialist. Think of your doctor as your partner in healing. Don't go off one of these drugs without medical supervision. The safest method of getting SSRI withdrawal relief is to wean off the medication slowly. By reducing the dosage in small increments, the neurochemistry can gradually adjust to the change and slowly adapt to gradually lower amounts of the drug in the system. SSRI discontinuation syndrome can last up to a year or longer, especially when an individual doesn't have adequate SSRI withdrawal treatment.1

Other Treatments for Depression Besides SSRIs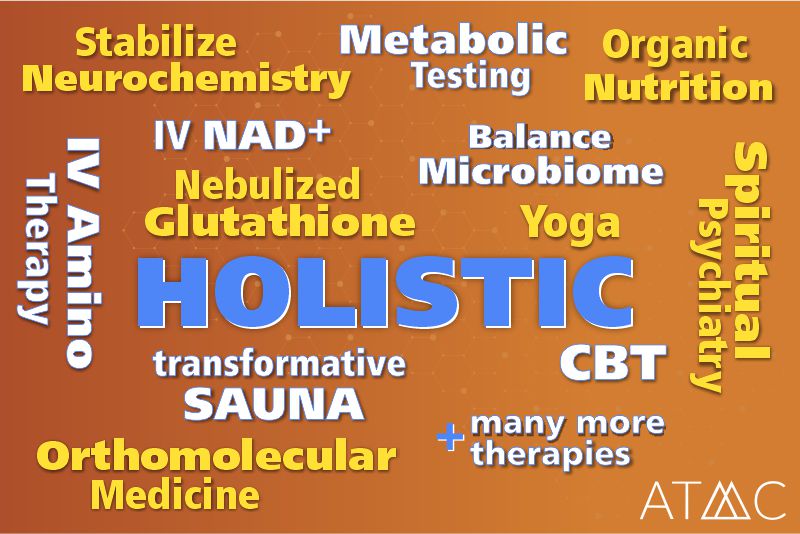 It is best to withdraw from SSRIs when any external factors that may have led to depression are resolved or at least under control. Support can come in many, many forms and can be the most important factor leading to success during this time. Having various therapies in place to stay comfortable is also a key factor. The Alternative to Meds Center program searches for potential underlying sources that are contributing to depression, anxiety, insomnia, or other symptoms. There can be physical and medical reasons for your symptoms for which drugs alone will not be able to provide relief.3 Our program uses laboratory testing, natural substances for promoting neurochemistry stability, SSRI withdrawal syndrome treatments, safe tapering, removal of accumulations of environmental toxins, personal counseling and support from peers, amino acid and IV therapy, targeted nutritional treatment, including both corrected diet and supplementation, yoga, personal exercise training, acupuncture, massage, Equine therapy, and the advantages of many therapies created to offer effective SSRI withdrawal relief. You are invited to call us and talk, so you may receive a better understanding of the SSRI withdrawal help available to you or your loved one today at Alternative to Meds Center.