Last Updated on June 4, 2021 by Carol Gillette
Alternative to Meds Editorial Team
Written by Diane Ridaeus Published Nov 2, 2018
Medically Reviewed by Dr Samuel Lee MD
About Ativan Dependency
Information is provided below about Ativan (lorazepam) dependency and how to reduce the drug safely. For long-term benzo users, it is vital to undergo a licensed benzo detox program. We recommend learning about the mechanics of drugs in general, and more specifically, benzodiazepines, prior to attempting to reduce and gradually eliminate the medication.
Ativan is a sedative prescribed for anxiety, insomnia, and alcohol withdrawal to prevent seizures. Lorazepam also causes quite a number of side effects and carries a significant burden of benzo withdrawal symptoms, especially when discontinuation is too rapid.1
Below we will discuss the side effects and withdrawal symptoms associated with benzos in more detail.

Top 10 Ativan Withdrawal Symptoms
Suicidal thoughts
Seizures*
Hallucinations
Rapid heartbeat
Increased sensitivity to light/sound/environment
Tingling in extremities
Sleep problems
Extreme mood changes, i.e., bouts of rage, paranoia, grief, etc.
Gastro issues such as nausea, indigestion, stomach pain
Memory loss
*The FDA warns that abruptly stopping lorazepam1 can induce seizures, especially when antidepressants are used concurrently.
Those with a history of addiction or personality disorders may experience lorazepam withdrawal symptoms after just a few doses of the medication.5 For these reasons, it is always recommended to come off of lorazepam safely under the supervision of a licensed professional. This ensures all medical complications are monitored and treated promptly.

How To Ensure You Get Off Ativan Safely
Due to the toxic reactions that frequently occur, work with a trusted physician, and have a set plan to follow. Lorazepam must be tapered in a gradual manner. Quitting Ativan cold turkey is a bad idea, as the shock to the body will be hard to endure, and may leave lingering withdrawals for a very long time.
A detox center that is familiar with benzo withdrawal is the best care option. For severe cases of lorazepam withdrawal or co-occurring disorders, an inpatient benzo tapering center will help make things more comfortable. If you or a loved one is suffering and needs immediate advice, please call Alternative to Meds now.

Lorazepam / Ativan Dependency
Lorazepam (Ativan) is a habit-forming, addictive medication. The drug's effects are very calming and pleasurable. When a person becomes dependent, they may develop a fear of not having the medication, or they may allow a bad day or flare-up of symptoms to be an excuse to take more than their prescribed dosage.3
If a person has been dependent on Ativan for many years, the process of coming off safely becomes much more difficult. Severe symptoms associated with long-term benzodiazepine use are well-established, both mentally and physically.
People experiencing Ativan withdrawal will often be crippled with fear, depression, mood swings, and hallucinations, along with physical issues like sweating, nausea, stomach cramps, and even seizures. A person going through severe benzo withdrawal may start to believe they will never recover.1

Treatment Options for Stopping Lorazepam Use
In many cases, the symptoms of acute benzo withdrawal will be so uncomfortable that inpatient, medical oversight is needed.
Deciding on the best course of action can be confusing. Here are some options you can expect to find when looking for lorazepam withdrawal help or a treatment program. Analyze them carefully for your best options:

Ativan Rapid Detox
Similar to a drug and alcohol detox, rapid detox offers very fast cessation (usually 3 to 7 days). During this time, the patient is monitored, vitals are kept at proper levels, and sedatives or other psychotropic medications can be used to help dampen rebound anxiety or other discomforts. Sometimes, the patient will be discharged with additional medications to take upon returning home.
Please note, Alternative to Meds Center does not recommend rapid detox as it does not allow enough time for the body, brain, and CNS to adjust to the absence of the medication. Alternative to Meds designed their programs to gently and gradually normalize the neurochemistry even before tapering begins. This prevents shocking the body, especially after long-term use of a benzodiazepine, and can significantly speed up recovery. It is not realistic to expect this major healing event to occur and sustain itself stably, in just a few days or weeks.

At-Home Ativan Nutrients and Remedies
There are over-the-counter remedies that can help dampen mild symptoms associated with benzo withdrawal. These remedies can be purchased at health food stores and pharmacies and taken at home without medical supervision. For headaches there is aspirin. For insomnia there is melatonin. For indigestion, there is peppermint tea or apple cider vinegar. While these remedies may have some use, benzo withdrawal is one of the most dangerous forms of drug withdrawal and should be handled under the care of a licensed specialist. When symptoms become more severe, call a doctor or clinic familiar with benzo withdrawal for help.1,2,4

Slow Lorazepam Taper
For most people, trying to get off Ativan safely with a knowledgeable doctor is the safest way to approach trying to get off Ativan. Some benzo tapers last for over a year and can reduce the chance of major symptoms. This gradual transition may ease the performance of their daily work duties or responsibilities. If major symptoms persist during a medication taper at home, seeking the care of an expert can help move the healing along more rapidly.1,2,5

Get off Ativan Safely at a Holistic Psychiatry Center
Inpatient holistic centers such as Alternative to Meds Center in Sedona, AZ use proven, gentle methods to help individuals overcome the mental health challenges associated with benzo withdrawal.
Recovery stories from our clients express the relief they found from becoming benzo-free, some after decades of taking the addictive medication!

How to Get Off Lorazepam Safely for Good!
Getting off lorazepam safely, under the care of a doctor, a benzo detox program, or a wellness center, also means your treatment professional should offer some sound recommendations for maintaining a healthy lifestyle upon returning to your daily routine. Make sure to ask for resources and have a counselor or doctor already arranged for follow-up visits.
A person will likely experience physical, mental, or emotional symptoms once becoming med free, so finding a healthy daily routine is important. As a basic roadmap, a person recovering from benzo use, anxiety, or any mental health condition should follow a regimen that makes their health the top priority. Be sure to incorporate healthy activities and a well-planned diet to support neurochemistry repair.
An individual leaving a benzo detox program with no real plan in place, or having scheduled just one follow-up appointment per month will have a far lower rate of success than a person who is provided a daily regimen of holistic therapies, counseling, and nutrient therapy. Focusing your energy on your health is the best way to make sure your days keep getting brighter and will make any daily triggers that pop up less significant.

Holistic Ativan Dependency Treatment at Alternative to Meds Center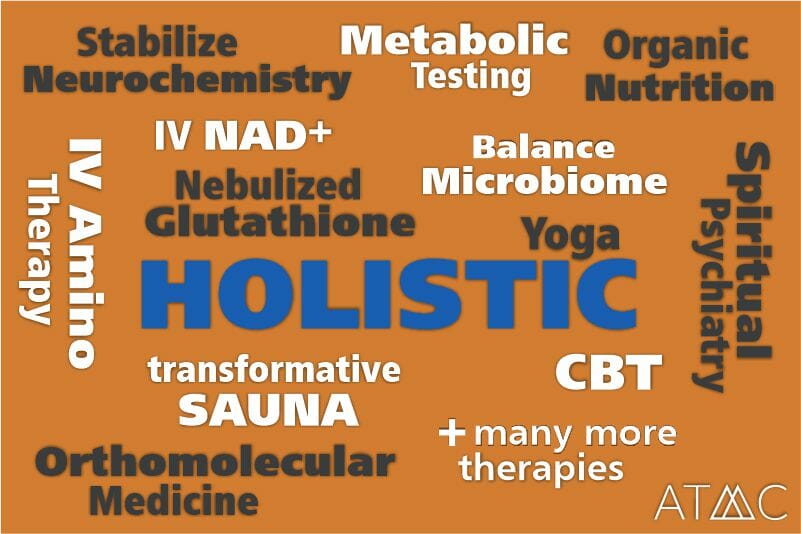 Alternative to Meds Center, a holistic psychiatry center located in Sedona, Arizona, has incorporated an educational program into the tapering program, that explains how to maintain good health after returning home.
A person can turn their entire life around once becoming med free. During their inpatient program, clients are given various nutrient therapies combined with Chinese medicine modalities, toxin removal therapies, and other adjunctive treatments to alleviate the symptoms of medication withdrawal. Thousands of cases of even the most severe Ativan withdrawal symptoms have been assessed, treated, and maintained through the oversight of the medical team at Alternative to Meds.