Last Updated on August 3, 2021 by Chris Weatherall
Alternative to Meds Editorial Team
Medically Reviewed by Dr Julia Britz NMD

IV therapy and why it's important.
Ok, scratch that … IV is not just "important," it's essential! It can make THE difference in treatment for a myriad of reasons. I love intravenous therapy and I'm going to explain why from the holistic perspective, and from my personal experience working with it in the clinical setting.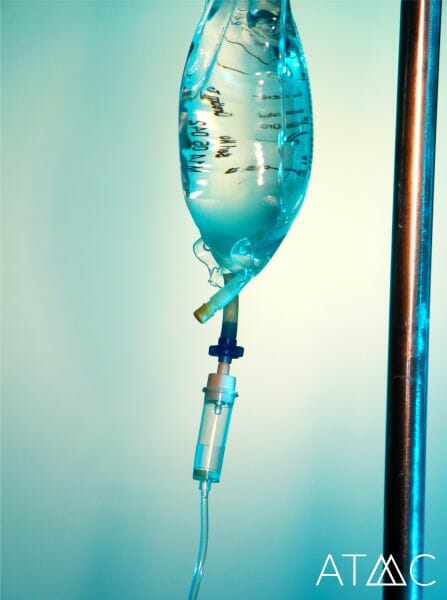 I work with people who struggle with their emotions, with anxiety, depression, bipolar disorder, schizophrenia, insomnia, etc. This means that I'm also facing GI problems. Never have I met a patient struggling with anxiety who didn't also have some kind of screwed up digestion. Constipation is at the top of the list, followed closely by lack of appetite and gas/bloating. The obstacle here is that absorption of supplements or medications might not be optimal, efficient, or even a decent option.
This is where I opt for IV therapy because I can totally bypass the gut! Injectables are not affected by the stomach or intestinal absorption problems. This means that a patient can start feeling better sooner while we work on the GI symptoms and healing the root cause.
In addition to getting straight into the vein, the total amount of infused nutrients or medications is available to the tissues. The nutrients are available for immediate use. We don't lose any from stomach acid degradation or loss in the urine or feces. The nutrients are forced into the cells by means of a high concentration gradient.
And what's really powerful is higher doses of nutrients can be given than would be possible by mouth without intestinal irritation.
IV therapy provides 100% of the nutrients to your body needs to:
Boost energy levels
Improve anxiety and depression
Enhance mental clarity and cognition
Lesson or eliminate tapering symptoms during withdrawal
Combat fatigue
Improve immune health and inflammation response
Detoxify the body from free radicals
As a doctor of naturopathic medicine, I often look for holistic modalities first and one powerful method I use is IV. IV nutrients, when done properly, appropriately, and safely, can bring someone down from mania, take away cravings, restore energy, and reduce anxiety. One bag can last days. To me, this is magic!

One of our favorite IV's here at Alternative to Meds is the NAD+ (nicotinamide adenosine dinucleotide). Known for its longevity buzz, we have additionally found it to be a go-to for easing medication withdrawal. Find out more by clicking the button below.